Tampa's offense explodes for 9-3 victory over Bradenton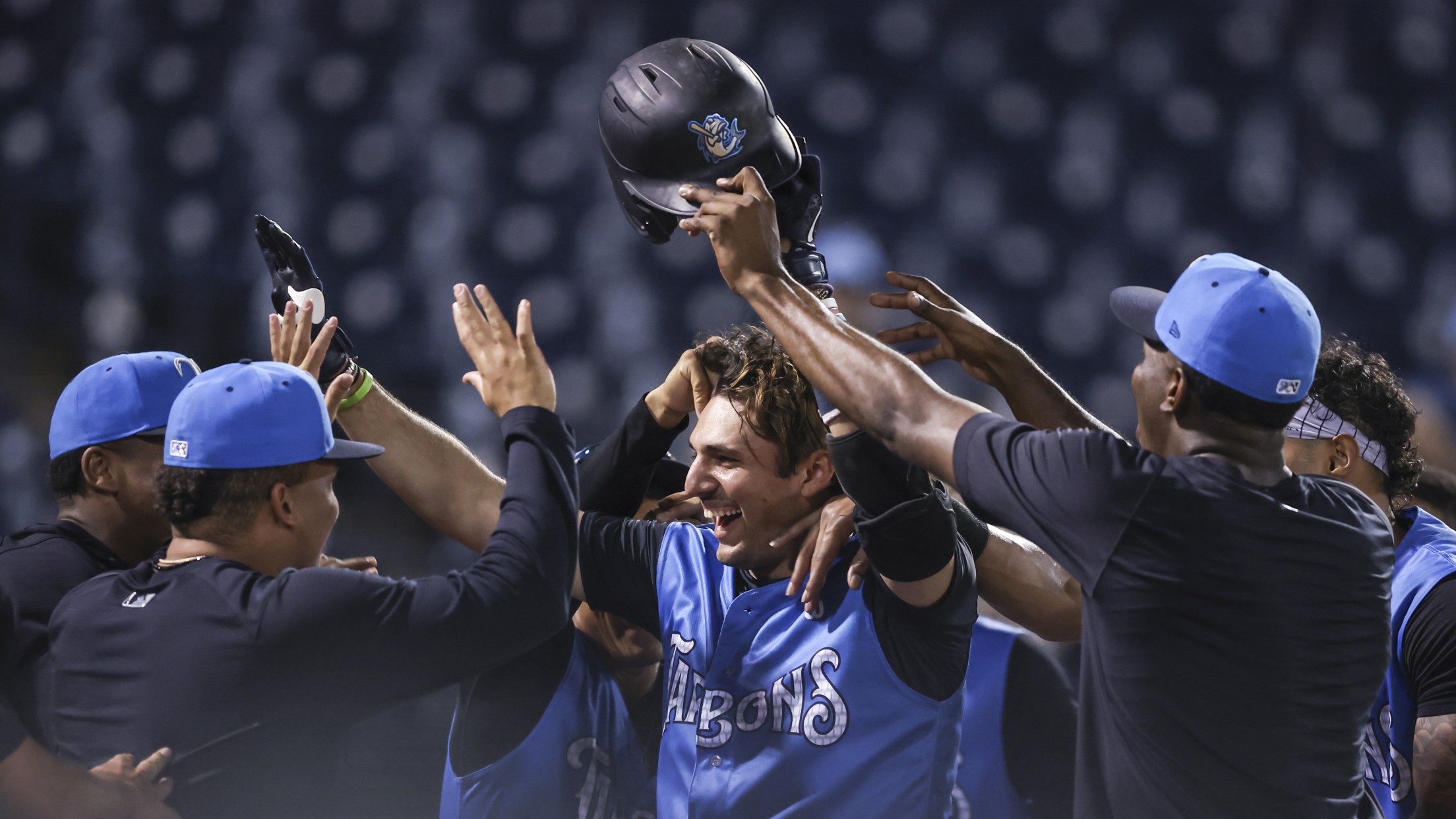 Brett Barrera's teammates swarm him at the plate after he smashed his first Single-A home run in the seventh inning at GMS Field. (Mark LoMoglio)
TAMPA, Fla. – The Tampa Tarpons (26-18) used an offensive onslaught in the back half of Friday's contest to dismantle the Bradenton Marauders (29-17) at George M. Steinbrenner Field, 9-3. Tampa used a three-run fifth inning to take the lead and posted five runs in the seventh to put the
TAMPA, Fla. – The Tampa Tarpons (26-18) used an offensive onslaught in the back half of Friday's contest to dismantle the Bradenton Marauders (29-17) at George M. Steinbrenner Field, 9-3. Tampa used a three-run fifth inning to take the lead and posted five runs in the seventh to put the game on ice. Each win this week is crucial for the Tarpons, who gained additional ground on the 1st place Marauders for the FSL West Division's final playoff spot.
Bradenton drew first blood in the top of the third inning. Tres Gonzalez grounded out to 2B Luis Santos with two men in scoring position to score one run. The Marauders quite literally stole another run as Jack Brannigan caught LHP Joel Valdez lacking and swiped home to increase the lead to 2-0.
Valdez put together a solid start for Tampa, finishing the night allowing just two runs through 4.1 innings pitched, striking out five Marauders.
RHP Harold Cortijo relieved Valdez in the fifth and tossed two scoreless innings in relief.
The Tarpons' offense finally came to life in the bottom half of the fifth. DH Brett Barrera started things off with a single up the middle. Santos was hit by a pitch and CF Spencer Jones walked to load the bases. With two outs, Bradenton starter Valentine Linarez walked C Antonio Gomez to plate Tampa's first run. LF Tayler Aguilar provided the finishing touch with an RBI-double off the left field fence to put the Tarpons ahead, 3-2.
Tampa opened the flood gates in the bottom of the seventh. Jones led off the frame by roping a line drive single to center, followed by Gomez who walked on four pitches. Aguilar managed to reach on a throwing error by first baseman Juan Jerez, with Jones coming around to score as the ball trickled into left field. Next up, 3B Marcos Cabrera skied a sacrifice fly to center field to bring in Gomez.
But wait, there's more!
The Tarpons kept their foot on the gas and continued adding insurance runs. RF Christopher Familia left the yard for the second straight game and DH Brett Barrera followed suit with a homer of his own. It was Barrera's first long ball in a Tarpons' uniform.
Cabrera padded the stat sheet with an additional RBI in the eighth inning – his RBI-single to center scored Gomez to extend Tampa's advantage to 9-3.
The Tarpons and Marauders face off tomorrow night for game five of their six-game set. RHP Tyrone Yulie (3-5, 4.66 ERA) is projected to make the start, with first pitch slated for 6:30 PM EST.